PROVINCIAL GRAND CHAPTER 2020 – A NEW THIRD PROVINCIAL GRAND PRINCIPAL IS INVESTED AND IMPORTANT CHARITY GRANTS MADE
Despite the restrictions placed on Freemasonry at these trying times, Provincial Grand Chapter was held at the Northampton Centre, Sheaf Close on Thursday 29th October 2020.
Important duties were completed, not least of which saw the Most Excellent Grand Superintendent, E Comp Jim Boughton Obligate and Invest E Comp Derek Pearson as Third Provincial Grand Principal. E Comp Derek is well known in the Province having served with distinction as our Provincial Grand Almoner from 2014 until June this year. He is, of course, also Scribe E of Euston Chapter 2283 – a post he has held since 2008. In congratulating E Comp Derek on his new appointment, MEGS said that he was immensely appreciative of all the hard word he had carried out as Provincial Almoner and was looking forward to his continued contributions to the Exec and Province in his new office.
The Provincial Convocation also saw the approval of two important grants from the Provincial Grand Charity. The first, for £1,000 was made to the Royal Osteoporosis Society. Osteoporosis is a condition where your bones lose strength, making you more likely to break a bone than the average adult. The second, also for £1,000 was made to the Motor Neurone Disease Association. MND is an incredibly debilitation disease and the Association is dedicated to improving care and support for people with MND, their families and carers. Provincial Grand Charity Steward, E Comp Graham Minett said I am immensely appreciative of the donations of our members to the Provincial Grand Charity and incredibly proud that we are able to support these two charities who do such great work in our society.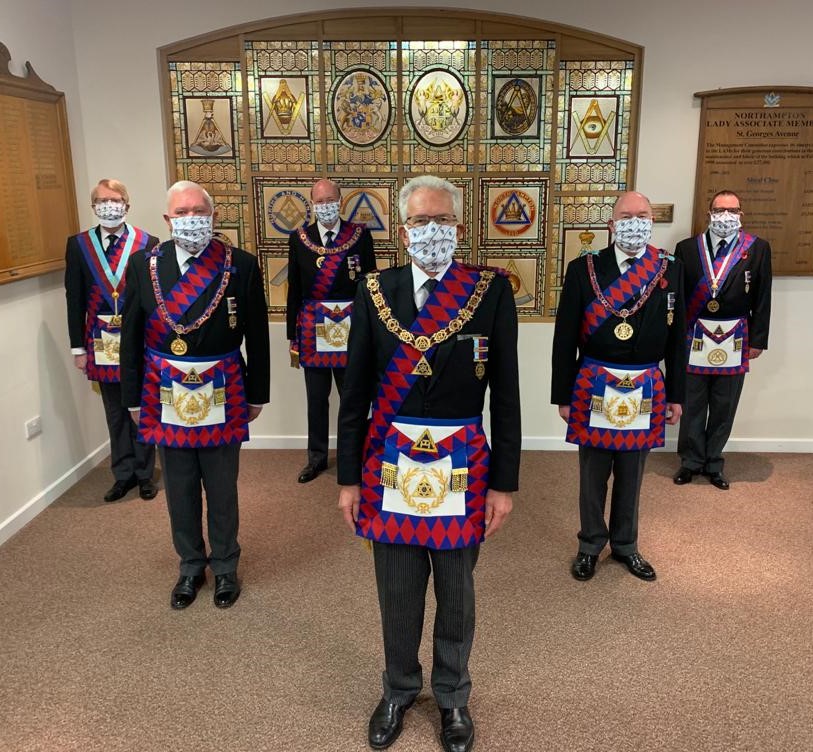 The "Rule of 6" PGC: Front: E Comp Jim Boughton, MEGS, centre row (l to r) E Comp John Payne, 2ndProvGPrin, E Comp Derek Pearson, 3rdProvGPrin, back row (l to r) E Comp Mike Binsted, ProvGSE, E Comp Neil Handley, DepGSupt, E Comp Steve Seward, ProvGDC.
Article by Mike Binsted