The shop has for sale a selection of new & second-hand Masonic regalia.
If the item you want is not in stock, it can be ordered for you. Prices are the same as the catalogue prices.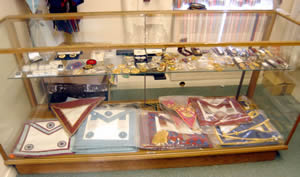 The shop is open each morning, Monday to Friday. If you are at a lodge meeting in the evening, the friendly bar staff will be happy to help.
There is a display cabinet with Masonic regalia, Provincial items, and Masonic placemats & coasters In the lounge bar.
The Ellindon centre can be contacted on 01733 265121.