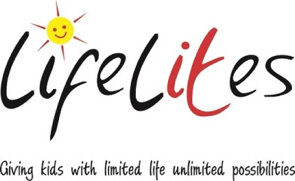 The Assistant Grand Master and former Lord Mayor of London, RWBro Sir David Hugh Wootton is to become a patron of Lifelites, the charity which donates and maintains inclusive technology for terminally ill and disabled children in hospices.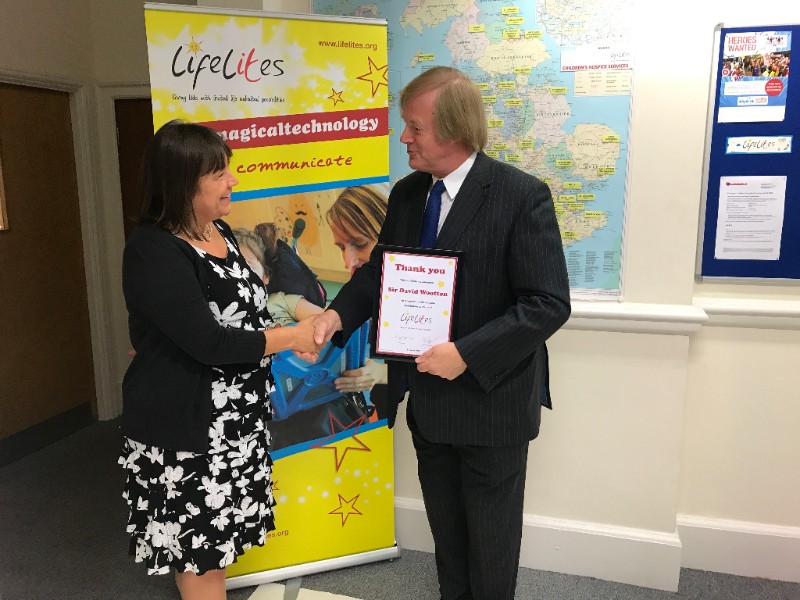 RWBro Sir David Hugh Wootton being welcomed as a patron of Lifelites by Simone Enefer-Doy, Chief Executive
RWBro Sir David was introduced to Lifelites through his role as Assistant Grand Master and as Master of the Worshipful Company of Information Technologists, a livery company for senior practitioners in the information technology industry. Since learning more about the charity's work, he has decided to lend his name to help the organisation and the children it supports.
RW Bro Sir David started his career in law before being elected to the Common Council for the Ward of Farringdon Within. He then went on to become an Alderman for the Ward of Langbourn before serving as Lord Mayor of London for the year 2011-12.
He devotes much of his time to supporting charities and other non-profit organisations. He has previously worked with organisations such as The National Trust, The Institute of Cancer Research, the King's Fund, the Charles Dickens Museum, the City of London Festival and the Misys Charitable Foundation, among others. He was knighted in the 2013 New Year Honours for services to legal business, charity and the City of London.
Lifelites - originally a Freemasons' millennium project but now a registered charity in its own right - donates and maintains specialist packages of assistive and inclusive technology for the 10,000 terminally ill and disabled children at every children's hospice across the British Isles.
The technology the charity provides helps these children to play, be creative, control something for themselves and communicate, for as long as it is possible. It gives them the opportunity to escape the confines of their disabilities and do the things which we take for granted, but which they never thought possible: paint a picture, make music, or play a game with their brothers and sisters.
RWBro Sir David said:
I am delighted to be in two organisations that are big supporters of Lifelites and am therefore doubly keen to support them. I recently visited their office and was shown what the dedicated team do there by Simone, the terrific Chief Executive. They have a musical instrument you can play just by passing your hand through a beam of light, a screen you can paint on in different colours electronically just with a move of the eye, and the amazing Magic Carpet. All products of great imagination which transform these children's lives and give them the chance to do what we all take for granted. Such wonderful work.
Simone Enefer-Doy, Chief Executive of Lifelites, said:
We are bowled over that Sir David has agreed to become a patron and support the work of Lifelites. We have no doubt that his status in the City Community will be perfect to assist us in raising the profile of Lifelites among this important audience.
Background
Lifelites (registered charity no. 1165791) empowers 10,000 children and young people in hospices with life-limiting, life-threatening illnesses and disabling conditions by providing them with opportunities to benefit from the power of assistive and inclusive technologies to play, to be creative, to communicate and to take control.
There is a Lifelites project in every baby and children's hospice across the British Isles. The hospices do not pay a penny towards their Lifelites project and all of Lifelites' work is funded by donations: the equipment, ongoing technical support and training at each hospice costs around £50,000 over four years.
To find out more about the charity, please visit the website at www.lifelites.org. If you'd like to get in touch you can call 0207 440 4200 or email This email address is being protected from spambots. You need JavaScript enabled to view it..