Fitzwilliam Lodge No 2533 raised £1,000 at their Ladies' Night in April 2011 for the Peterborough and District Branch of Riding for the Disabled. This was matched by the Provincial Grand Charity and a cheque for a total of £2,000 was presented on 25 January 2012.
Riding for the Disabled, provides opportunities for disabled local children to benefit from the freedom of movement and physical development that they gain from horse riding. The children, from Marshfields, Phoenix and Heltwaite Schools, attend weekly lessons during term-time, and are supported by a group of dedicated volunteers who enable the activities to take place.
"Research has proved that interaction with animals, particularly horses and ponies, often leads to improvements for people who have a wide range of learning difficulties, behavioural problems or medical conditions," comments Bella Craven, instructor for the group. "For those in a wheelchair, riding brings them up to normal height and offers them an independence and freedom they do not usually experience. The action of the horse's walking stimulates the rider's hip movements, thus building their strength and core stability."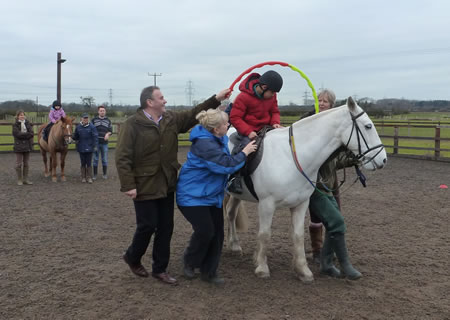 Fitzwilliam Lodge WM, WBro Jon Hibbins gives a helping hand
The Peterborough and District Group is one of the oldest in the country and even pre-dates the Riding for the Disabled Association which celebrated its 40th anniversary last year. "Each year we need to raise a substantial amount of money in order to keep our service going," Bella continues. "From buying specialised apparatus and providing safety equipment like hard hats, we cannot operate without the generous donations of local people and organisations."
"When we heard about the difference riding can make to the confidence, awareness and enjoyment of disabled children, we knew it was something we wanted to support," said Local Information Officer, WBro Russell Laxton. "However, nothing prepared us for seeing it for ourselves when we recently attended one of their lessons at Grasslands Equestrian Centre in Helpston. The looks of joy and delight on the children's faces were truly inspirational and for some it obviously provided a moment of peace and escape from their conditions."
If you would like to find out how you can get involved with the Peterborough and Riding for the Disabled group, either by making a donation or by becoming a volunteer, please contact Mrs Kathy Hibbins on 01780 783082.