The word legend is often misused.  However, the term can quite properly be associated with RW Bro Richard Stainton Edward Sandbach MA LLM PPGM OSM who died on 10 January 2015 in his 100th year.  He was a legend not only in this Province but in Freemasonry generally.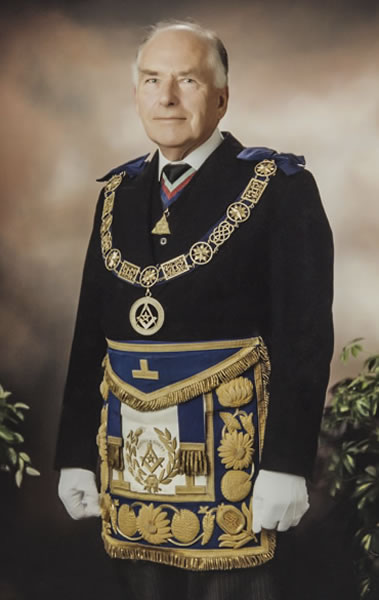 Born on 13 June 1915, he was only two years old when his father died in the First World War leaving his mother to bring him up.  In his youth, before the Second World War, he was a keen member of the scouting movement and the friendships and camaraderie he enjoyed encouraged him at a later time to join an organisation with similar principles - Freemasonry.
He gained a law degree at Cambridge University and during the Second World War enlisted in the Suffolk Regiment, from where he was commissioned into the Cheshire Regiment. He served with the Canadian Army before volunteering for the Airborne Forces, acting as General Staff Officer 2nd Grade (GSO2).
After the War, in 1949, whilst practising law in London he was initiated into Clerestory Lodge No 6551, a London Lodge.  Eventually, his work took him to Peterborough where, in 1951, he joined Fitzwilliam Lodge No 2533.  Thus began an association with this Province that was to last 63 years.
For 35 years from 1979 he was a member of The Lodge of Antiquity No 2 which he also served as Worshipful Master. This is one of only four Lodges within the English constitution, known as "time immemorial lodges," authorised to operate without a warrant.
He was an exceptionally good ritualist with an excellent delivery, perhaps aided by his legal training.
A prolific author he wrote the famous series of Peterborough Booklets that are universally given to Masons after their initiation, passing and raising.  He has written many excellent papers on Masonic topics and had books published.  These include "Priest and Freemason : the Life of George Oliver" (1988) - about Dr Oliver, "Understanding the Royal Arch" (1992), "Square Pomes" (1998) - a delightfully humorous booklet of verse and limerick and "Talks for Lodge & Chapter" (2007).
From November 1992 for two years he was Worshipful Master of Quatuor Coronati Lodge No 2076 (the Premier Lodge of Masonic Research). The Richard Sandbach Lodge of Research No 9600 is named in his honour and with the introduction of the Annual Richard Sandbach Lecture in 2008 it was RW Bro Richard who presented the inaugural, and quite moving Lecture, entitled "Scout to Freemason 1939 to 1946."  He was also part of the team that rewrote the Holy Royal Arch Ritual in 2004.
In a most illustrious Masonic career he was
Assistant Provincial Grand Master from 1974 to 1978
Deputy Provincial Grand Master from 1978 to 1984
Provincial Grand Master from 1984 to 1990.
During his period as Provincial Grand Master he 
was driven by the ethos evoked by our three great principles, brotherly love, relief and truth; urging all members to enjoy their Freemasonry and the fellowship it brings
introduced the concept of Groups into the Province, each Group having a Grand Officer as his personal representative in that area
introduced into the Province the Provincial Grand Master's Certificate of Merit for meritorious service
formulated the concept of the Three Counties Lodge of which he was a founder and was consecrated in 1988 with RW Bro Richard as its first Worshipful Master 
was an Honorary member of no less than 23 Lodges and three Chapters in this Province
consecrated seven new Lodges in the Province
In 2006 he was awarded the Grand Master's Order of Service to Masonry (OSM), a most prestigious honour granted to no more than ten Brethren worldwide at any one time.
Exalted into St Peters Chapter in 1952, he was the Most Excellent Grand Superintendent in this Province from 1978 to1990.  As such, he was the last PGM in the Province to have the dual role of PGM and Most Excellent Grand Superintendent.
He Masonic order memberships included
Mark - advanced into Fitzwilliam Mark Lodge in 1955, he achieved Grand Rank in 1975 and became a RW Bro on his appointment as the Grand Senior Warden in 1985
Royal Ark Mariner - elevated into Powys RAM Lodge in 1956 and was honoured in 1976 with appointment to the Grand Master's Royal Ark Council (Honoris Causis)
Ancient and Accepted Rite - joined Supreme Council in 1989 and rose to head the Order as Most Puissant Sovereign Grand Commander from 2002 to 2004
a member of and achieved high office in numerous other orders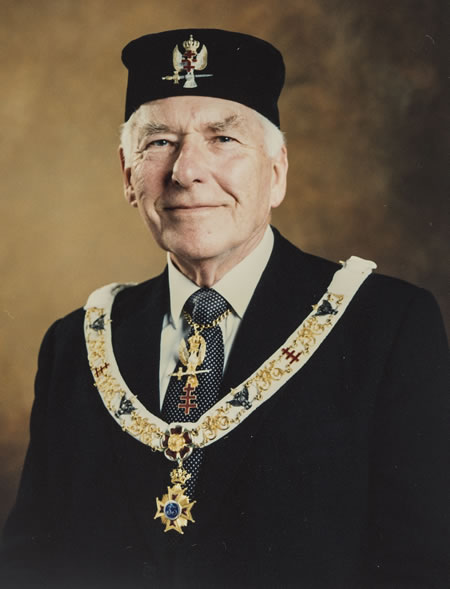 He completed 60 years membership in the Craft and Holy Royal Arch and on 24 March this year he would have done so in the Mark Degree.
Although an inherently shy man, he had a warm, extremely helpful disposition.  An erudite, deep thinker, he dispensed valuable and sage advice on Masonic and other matters to those wise enough to seek it.
He was ably supported by his faithful wife, Wendy who, when he became APGM, became his PrGChauffeuse taking him hither and thither, always finding something with which to occupy herself whilst he was engaged in Masonic business.
He was a very active member of his local community at one time being Chairman of the Diocesan Board of Finance.
Devoted to his Freemasonry, in a most distinguished Masonic career he made an immense contribution and will be sorely missed.