Naturally, the responsibilities of this very important appointment are a given, but, you cannot help yourself from being very aware of the very exacting and high standards that have been set by those who have gone before. My predecessors in this role in recent times include such well known and respected Provincial figures as W Bro Norman Coulson, VW Bro Wayne Williams, W Bro Norman Pope and, of course, W Bro Trevor Boswell.
My post as Assistant Provincial Grand Secretary had given me a very good insight into the role I was moving into, however, I was acutely aware that it would only be when I assumed the responsibilities of the appointment that the true learning could begin. The time for Operation Handover arrived in late January.
Operation Handover was an interesting process in as much as I knew that I needed to learn my role as Provincial Grand Secretary from W Bro Trevor, but, by the same token, the pupil was also the teacher. Importantly, I wanted to ensure that my successor, W Bro William Diggins, was receiving the guidance and instruction necessary to execute his appointment as Assistant Provincial Grand Secretary.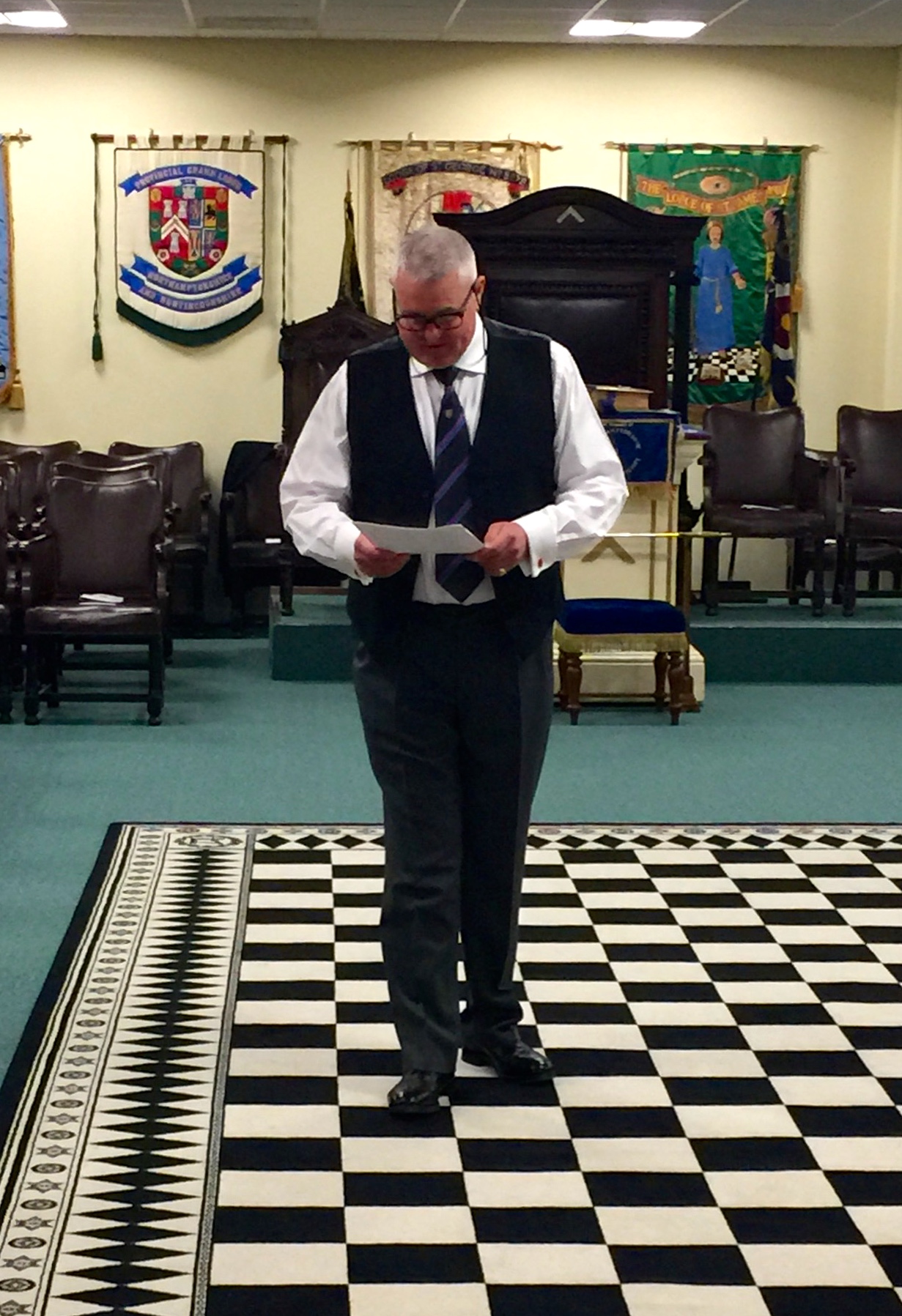 While Operation Handover was at full speed, so, was the unrelenting pace of preparations for the Province's busiest time of the year which include the Annual Meeting of Provincial Grand Lodge and the meeting of Three Counties Lodge. It is a time of dinner bookings, preparation of seating plans and making sure that everything is checked more than once with no detail being overlooked. Provincial Grand Lodge 2015 was particularly challenging with the Provincial Grand Master obligating and investing a new Deputy and Assistant which meant ensuring that all associated paperwork and protocol was in order.
As I write this my countdown app tells me that I have been the Provincial Grand Secretary for 9 weeks, 17 hours, 59 minutes and 20, 21, 22, 23.... seconds, however, the time has gone in a heartbeat. Once the Three Counties Promotions meeting finished, I set to work on the next task which was to put dates together for all the extra curricular activities this forthcoming season like the Initiates' Evenings, Wardens' Seminars etc.. oh and also making sure that the ducks were firmly in a row for the Provincial visit to Grand Lodge where 75 Brethren attended in support of the PGM for the Quarterly Communication meeting, followed by a three course lunch with wine at a nearby restaurant.
So far I can say that the Provincial Office is very busy, but, we do tend to veer from different states of busyness depending on the time of year, which in itself is a unique aspect of the role. I must also say that it's the best kept secret in the Province as it's probably the most enjoyable and fulfilling job I have ever done and that does include the two trips I took on Operational tours.
Humour of course is an essential part of the day to day running of the office and we never fail to find something to laugh about and, naturally, we have a great relationship with the Chapter Provincial Secretariat or commonly referred to on our part of the ship as 'The Chapter boys'.
All in all everything is going well and the team of volunteers that come in to help do an amazing job, and I am eternally grateful to them for what they do. I do hope to meet Brethren around the different bazars this next season.