September is a busy month not just because it is the start of a new season, but, also because there are many pressing matters that need attention. It is the month that sees the start of the Provincial appointments and promotions cycle, which culminates in December with letters being sent to many well deserving Brethren across the Province. While the Lodges themselves are preparing and finalising their submissions, the Provincial Secretariat starts to gather all of the background information and prepare a complete career profile of each Brother nominated for first appointment or past rank promotion. All of this is necessary for the Provincial promotions meeting, chaired by the Provincial Grand Master, when the decisions regarding appointments are made. This painstakingly important preparation is carried out by W Bro Eric Ellison and, like all good things, it is this attention to detail and preparation that plays a large part in the process running smoothly. At the conclusion of the meeting each career profile is annotated with the rank to be offered with W Bro Trevor Cooke entering everything onto Adelphi 2 for the letters to be produced and that, come the day in May, each Brother has a correct rank shown against his details.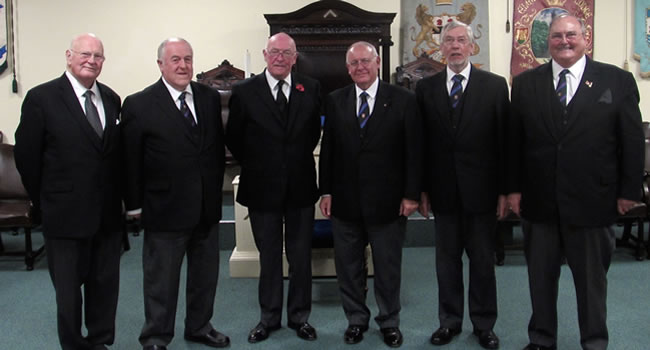 October sees the Installation meeting of the Three Counties Lodge, which is another important event in the calendar not least because it is traditionally attended by the Provincial Grand Master who will give his half-year address to the Province. Naturally, it requires much preparation to ensure that all those who wish to attend are booked in, dining plans, place cards produced as well as ensuring any necessary paperwork for the various agenda items are both correct and in place. This year it was a personal honour to become a joining member of the Lodge and this was because, historically, the Provincial Grand Secretary serves as Secretary to the Lodge itself. I have to say it is quite a humbling experience when you look down the membership list at all the high profile personalities who are or have been members of the Lodge.
In between times, the office never sleeps are there are many e-mails, letters and phone calls to be answered and, reflecting back on the first six months in post, I am most pleased at how well the new team have seamlessly transitioned into their respective roles as well as putting up with me as well as my interesting and unique command style.

Christmas will soon be here and with that will come the New Year which will see us turn our attention to all that is necessary for a successful Provincial Grand Lodge 2016, which will see W Bro Jim Boughton retire as Assistant Provincial Grand Master with W Bro Charles Bennett being appointed and invested as the new Assistant Provincial Grand Master. The Provincial printing machine is already in full swing with invitation letters to other provinces as well as the day to day routine which continues as concurrent activity to all the necessary preparations for Provincial Grand Lodge '16 and Three Counties' Promotions meeting '16.

Let me conclude by congratulating all those Brethren who have been selected for well-earned first appointments and past rank promotions and on behalf of everyone here in the Secretariat I wish you and your families a most enjoyable Christmas and a very happy, healthy 2016 and look forward to seeing you all around the different centres.