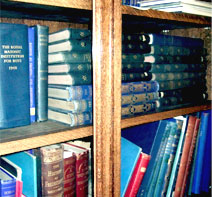 The Library contains over 800 books and the Museum holds about 600 items, some of which are unique.
Open to Brethren on any Lodge night (or other time by appointment) the Museum and Library are under the care of the Richard Sandbach Lodge of Research. The support received from Lodges and Chapters in the past is gratefully acknowledged and it is hoped that this will continue.
Additions to the Library and Museum are always gratefully received.
For more information please contact the Lodge Secretary, Richard Sandbach Lodge of Research No 9600.