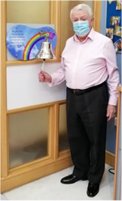 One beneficiary of the Holy Royal Arch PSA testing campaign from 2019 is Abington Chapter No 8041 Treasurer, Excellent Companion Michael Branch, who prompted by an invitation to attend an event at Sheaf Close, produced test results that highlighted a need for him to contact his local GP.
Following a number of further tests at Kettering General Hospital, Michael was then transferred to the Oncology Unit at Northampton General Hospital. In December 2020 Michael commenced Radiotherapy Treatment concluding on 7th January 2021 to a successful outcome.

Excellent Companion Michael said, `I have been fortunate, my grateful thanks go to Excellent Companion Wayne Williams for starting this campaign, and to MEGS Excellent Comp Jim Boughton for continuing to support it`.

The picture shows Michael `Ringing the Bell` to denote the completion of his treatment at Northampton General Hospital Oncology & Haematology Unit.